Hollywood is no stranger to criticism, especially in this new age of call out culture and publicly holding institutions and organizations accountable for their actions.
In 2015, #OscarsSoWhite started trending across all social media platforms after, for the second year in a row, the academy awarded all 20 acting nominations to white actors. The homogeneity of these award shows – and subsequently of Hollywood – could no longer be avoided. While white male artists dominated the industry – in acting, directing, designing, etc. – the number of female and non-white creatives taking lead roles was steadily growing. Were they being recognized for their work as they should be? The answer was – and continues to be – no.
This year, Chloe Zhao made history as the first Asian woman and second woman ever to win a best director Oscar for her film Nomadland. Every first is cause for celebration. She is the first and certainly will not be the last, an inspiration to young girls of the global majority everywhere. A door which has been firmly shut for decades has opened and while still heavy, requiring an unfair amount of strength to budge, it's possible to make it through.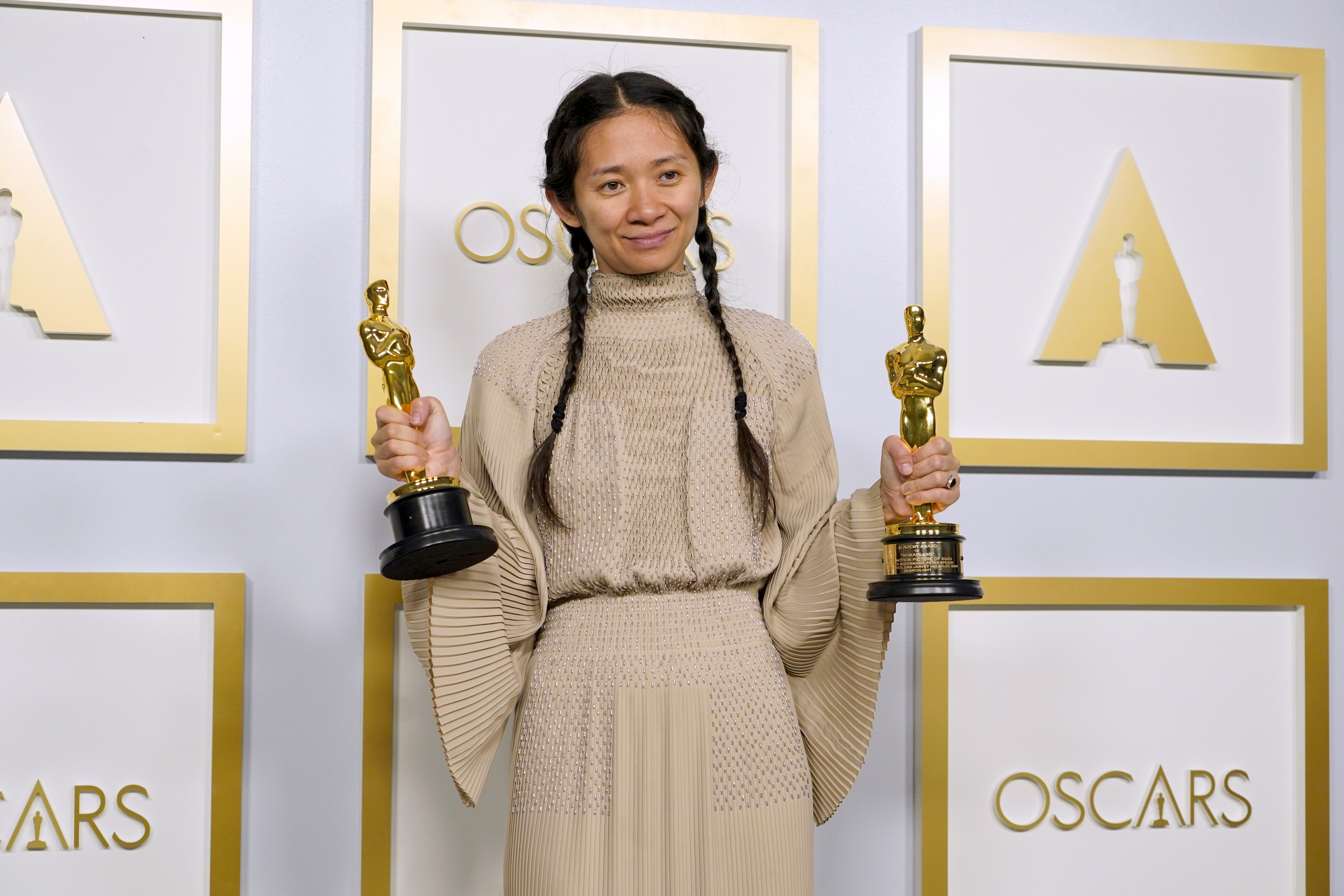 And yet, every first is cause for grief as well, a reminder of how long it's taken for a woman to be nominated for this or a person of the global majority to win that and – perish the thought – a woman of the global majority to be recognized for her innovations and contributions to cinema as a whole. We grieve for the doors that have not just been shut but slammed in the faces of women and people of the global majority. We grieve for the abuse and harassment and belittlement. We grieve for the decades of silencing.
Hollywood is currently under a microscope, with scrutiny coming from both within and outside the industry. The racism and misogyny that has run rampant for decades is no longer a secret swept under multi million dollar rugs. Equity, representation and telling diverse stories seems to be at the forefront of everybody's minds.
Less common, yet unavoidable, is the notion of atonement. It's not enough to just move forward into an equitable future – we also need to acknowledge and atone for wrongs committed both publicly and privately. Over the last year in particular, celebrities have been forced to answer for their past indiscretions. For example, comedians Jimmy Kimmel, Tina Fay, and Jimmy Fallon have all apologized for their use of blackface, and have removed episodes of their shows that feature the act from streaming and syndication. Their apologies were met with criticism. Some wondered whether apologizing was enough. Others wondered if removing those episodes was in an attempt to hide their mistakes and if leaving them up would serve as a lesson and reminder of how Hollywood has failed. Is erasure atonement or simply further erasure?
The act of blackface is, of course, overtly horrific and unacceptable. But blackface can come in more nuanced forms. The other side of the coin is whitewashing, a Hollywood favorite, and one of the topics in Christopher Rivas' The Real James Bond…Was Dominican.
Whitewashing can take two forms. The first is when white actors are cast in roles that are deliberately written as being global majority. This is particularly prevalent in the world of animation. Jenny Slate and Kristen Bell are two white actresses who both previously voiced Black characters – Slate in the show Big Mouth and Bell in Central Park. Both actresses have subsequently stepped down from those roles, which have been recast with Black actresses.
"This is a time to acknowledge our acts of complicity. Here is one of mine. Playing the character of Molly on Central Park shows a lack of awareness of my pervasive privilege. Casting a mixed race character with a white actress undermines the specificity of the mixed race and Black American experience. It was wrong and we, on the Central Park team, are pledging to make it right. I am happy to relinquish this role to someone who can give a much more accurate portrayal and I will commit to learning, growing and doing my part for equality and inclusion."
Kristen Bell in an Instagram post discussing the decision to step down from her role as Molly.
This form of whitewashing is "blackface" without physically painting a face Black. It's especially prevalent in films and has been since the early days of Hollywood. In Dragonball: Evolution, a movie based on the Japanese cartoon series Dragon Ball Z, the hero is played by white actor Justin Catwin. In Avatar: The Last Airbender, based on the cartoon series, actors Nicola Peltz and Jackson Rathbone, both white, play the originally Asian lead roles. It's also interesting to note that Dev Patel, who plays the antagonist character, was not originally cast. He replaced a white actor who had to leave the project.
In Prince of Persia, Jake Gyllenhaal was cast as the lead hero. None of the characters were played by actors of Middle Eastern descent. In A Mighty Heart, Angelina Jolie plays a character who is of Dutch/Afro/Chinese/Cuban descent. Liam Neeson plays Ra's al Ghul in Batman Begins, a character of Arab descent. Rooney Mara plays Tiger Lily in Pan, a character of Native American descent. Tilda Swinton plays The Ancient One in Doctor Strange, a character of Asian descent. Emma Stone plays Allison Ng in Aloha, a character who is of Chinese and Native Hawaiian descent.
The list goes on far too long.
It also goes just as long in the second form of whitewashing. In the first, the characters are written as global majority but are not cast authentically and the roles are given to white actors without changing the character's race to being white. In the second, characters are written as global majority and then deliberately changed to being white and given to white actors.
Angelina Jolie is again on this list for her role as Fox in Wanted. The film was an adaptation of a comic book series and the character was written as being African American, partly inspired by Halle Berry. Carrie Mulligan plays Irene in the film adaptation of the novel Drive. In the book Irene is "Irina," a Mexican woman. Jim Sturgess plays the lead in 21, based off of the true story of the MIT Blackjack Team. The person he is portraying is inspired by Jeff Ma, an Asian-American MIT grad. Josh Hartnett plays Eben Oleson in 30 Days of Night. The character is meant to be of Inuit descent and was originally named Eben Olemaun. Edge of Tomorrow features another name and race change – Tom Cruise plays Major William Cage. The character was originally named Keiji Kiriya and was of Japanese descent.
It's sad to think of the number of roles that have gone to white actors that should have gone to global majority actors. It's angering to think of the deliberate choices made by Hollywood executives to keep these roles from global majority actors. The excuse of there just aren't any qualified actors has been disproved time and time again and, let's face it, it's just not true. It's a coverup for the real, damning and damaging truth of the inequities and institutional racism that have fueled the industry.
Let's go back to Christopher Rivas' The Real James Bond…Was Dominican. Rivas and others posit that the iconic character was inspired by Porfirio Rubirosa, a Dominican diplomat and playboy. Think of what it would have meant if James Bond had not been whitewashed, if the actor who originally played him in 1962 had been of Dominican descent. Think of the doors that could have been opened decades ago, doors that would be wedged wide open for everyone to easily walk through so they can create the breadth of diverse, authentic work that we all know Hollywood is capable of.